You Cannot Have A Complete National Pokédex In Pokémon Sword & Shield!
Posted by: Avia - Jun 12, 2019 1:55 AM - No Replies
http://www.nintendolife.com/news/2019/06...and_shield



Potentially putting a bit of a downer on our otherwise positive early impressions of Pokémon Sword And Shield, it has been revealed that not every Pokémon will be obtainable in the game.

The news comes from the Nintendo Treehouse livestream, where game producer Junichi Masuda confirmed that not all Pokémon will carry over to the new games. Pokémon HOME - an upcoming cloud service which will let you transfer Pokémon from Pokémon GO, Let's Go, and Pokémon Bank to the new games - will only let monsters which appear in the Galar Pokédex be sent over.

Masuda said that the team spent "a lot of time" thinking about how it would be best to deal with the ever-expanding Pokédex, noting that the team had to balance reworking as many Pokémon as possible to fit with the Switch's advanced hardware and presentation possibilities while still working towards development deadlines. Battle balance also played a part, with the idea of having more than 800 options available for competitive play presenting a number of potential balancing issues.

The games will feature a completely new set of Pokémon - including the previously revealed Wooloo, Gossifleur and others - as well as some older favourites such as Pikachu, of course. The current total of available Pokémon is unknown.

Does this impact your opinion on the new games? Is transferring your entire collection an essential part of the experience, or are you happy enough with having a new generation to play with? Let us know in the usual place.
Pokemon Director Confirms not all Pokemon will be included in Sword/Shield
Posted by: Legend - Jun 11, 2019 9:00 PM - Replies (7)
In the Nintendo Treehouse gameplay demo following the Nintendo Direct today Sword/Shield director Junichi Masuda stated the following: (image is a direct translation from Japanese spoke live):



It's unconfirmed how many Pokemon will be included or how many will be cut, but it appears that we might potentially have only a handful of Pokemon even included in Sword/Shield. Possibly even only enough to provide for the story playthrough.

A full list of Pokemon confirmed to appear can be found here at Serebii.com
Pokemon Go Adventure Week Announced, Adds New Shiny Pokemon
Posted by: Avia - May 31, 2019 5:51 PM - No Replies
https://www.gamespot.com/articles/pokemo...0-6467266/


A new week-long event is kicking off soon in Pokemon Go. Niantic is holding another Adventure Week beginning Tuesday, June 4, and it'll give players a chance to earn extra rewards, catch some rare Rock-types, and even find a couple of new Shiny Pokemon.

During Adventure Week, Geodude, Rhyhorn, Omanyte, Aron, Lileep, Anorith, and other Rock Pokemon will appear in the wild much more frequently than normal. You'll also be able to hatch certain Rock-types--such as Onix, Larvitar, Lileep, Anorith, and Shieldon--from 2 km Eggs, and Onix and other Rock Pokemon will appear in Raid Battles. On top of that, you'll have your first chance to catch Shiny versions of Onix, Lileep, and Anorith.

In addition to increased Rock Pokemon spawns, you'll earn four times the usual amount of Buddy Candy during Adventure Week, as well as a whopping 10 times the usual amount of XP the first time you spin the Photo Disc at a new PokeStop. If you have Adventure Sync turned on, you'll also be able to earn 50,000 Stardust and 15 Rare Candies when you walk 50 km.

Finally, Niantic is distributing special Field Research tasks during Adventure Week. As usual, you'll be able to collect these tasks by spinning the Photo Disc at PokeStops. Adventure Week is scheduled to end at 1 PM PT / 4 PM ET / 9 PM BST on June 11. You can read more about the event on the official Pokemon Go website.

Adventure Week isn't the only Pokemon Go event on the horizon. The game's next Community Day will take place on Saturday, June 8. The featured Pokemon this month will be Slakoth; not only will it appear in the wild more frequently than normal, it will also be able to learn an event-exclusive move if you manage to evolve it into its final form, Slaking, up to an hour after the event ends. The Legendary Pokemon Cresselia has also returned for a limited time.

The Pokemon Company held a press conference earlier this week, where it announced a handful of new Pokemon games and services, including a new app called Pokemon Sleep that aims to "turn sleep into entertainment." To coincide with the announcement, the Sleeping Pokemon Snorlax is spawning in the wild in Pokemon Go until June 3.
Two Big Pokémon News Events on the Way
Posted by: NanoCatalyst - May 27, 2019 7:17 AM - Replies (1)

Link


Link

Source: Pokemon Newsletter


Some exciting stuff heading our way!
Detective Pikachu early reactions show that it's not just Pokémon fans who'll love it
Posted by: Avia - Apr 28, 2019 10:39 PM - Replies (5)
https://www.digitalspy.com/movies/a27294...s-pokemon/





Detective Pikachu is set to be one of the weirdest blockbusters this year.

The first live-action Pokémon movie takes place in a film noir world, where Pikachu (Ryan Reynolds) teams up with a human teenager (Justice Smith) to solve a very twisty case.

But can a live-action Pokémon movie actually work? Will we be able to get over the fact that Pikachu now shares a voice with Deadpool?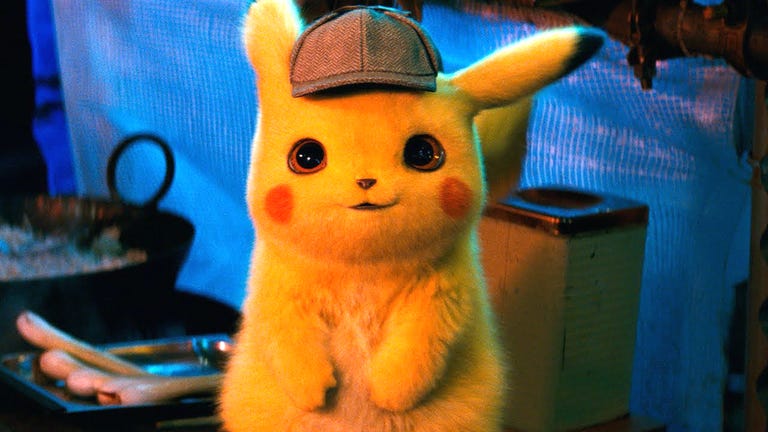 Well, the first reactions are in from the folks lucky enough to attend special preview screenings, and it looks like Detective Pikachu is going to be a hit.

Almost universally positive social media posts reveal that the film is not just for diehard Pokémon fans, and will appeal to those of us who don't know our Psyducks from our Jigglypuffs.

Ryan Reynolds is singled out for praise, and the general feeling is that the movie is just as crazy as we expected it to be – but somehow works.

Though the first footage of photorealistic Pokémon and an unnervingly furry Pikachu may have been a little discombobulating for some fans, it looks like we'll be able to put this behind us to enjoy a proper big screen tribute to the iconic pocket monsters.

It's already been revealed that the movie is getting a sequel, and we'll also be getting a live-action Sonic the Hedgehog movie too.
Pokémon Go Adds More Legendary Pokémon This May!
Posted by: Avia - Apr 27, 2019 3:29 AM - No Replies
https://www.gamespot.com/videos/pokemon-...0-6449301/


Niantic is rolling out a new set of Field Research tasks for Pokémon Go. The new tasks will begin appearing May 1 at 1 PM PT/ 4 PM ET and they'll be available through the end of June. With these new tasks, you'll have another chance to catch a couple of fan-favorite Legendary Pokemon. During May and June, each time you achieve a research breakthrough, you'll be rewarded with an encounter from either Ho-Oh, Lugia, Latios, or Latias.
GTS 12 Years Anniversary & New Features!
Posted by: Avia - Apr 27, 2019 1:58 AM - Replies (24)
Welcome to the refreshed GTS! Celebrating our 12th year Anniversary; we bring you a brand new look & feel, and several new features!

Mobile Friendly Design

/ All old designs will be disabled & retired.

Random Avatars System

/

Up to 6 Avatars!

Random Signatures System

/

Up to 3 Signatures!

Posting Styles

/

Various colors to choose from depending on your group! Some are still being worked & tested on. If you're missing one, just report to us, and we'll get it corrected!

New Music Station

/

The new music station is even supported by mobile browsers!

Let's Go & Generation 8 support on PokeTrade

.

Nintendo Switch FC support on PokeFriends

.

This is still WIP, but expected to be completed prior to 8th Gen release.

Trainer Pokemon are fully updated

!

Likes System.

/

Members can now like posts!

New GTS Badges

! /

To better function with the new mobile adaptability, we had to ditch the old GTS Badge system. The code was messy and had problems cooperating with the new design. Thus it was replaced, and we took the opportunity to create new Badges for everyone to earn! A future unveiling will come.




The PokeSwitch designs ushers in a new era, and is our 4th generation of themes/designs. Due to how outdated the code is in the old themes, and the difficulty to streamline managing them. They'll be retired from service.

The 4th generation designs are cleaner looking, and better streamlined for future upgrades.

But there's many more new designs to come based on this 4th gen of Designs! The artwork is by

Darside
.

We've spent about a month working on all this and did our best to notice bugs & issues. But we're unlikely to have taken notice to everything 100%. If you spot a problem, please report it here
.

Like what you see? Has it inspired new feature ideas? Let us hear about it
! We may be able to make it possible! Be prepared for our annual events as we all prepare for Pokemon Sword & Shield!
Pokemon Sword & Shield Will 'Emphasize' Switch Handheld Mode!
Posted by: Avia - Apr 26, 2019 6:56 PM - No Replies
https://ca.ign.com/articles/2019/04/26/p...dheld-mode


Pokemon Sword and Shield are being developed to "emphasize the fun of playing Nintendo Switch in handheld mode."

Revealed in a financial results briefing for the fiscal year ending March 2019, Nintendo says that last year's Pokemon: Let's Go, Pikachu! and Eevee! were "designed to highlight the fun of Nintendo Switch in TV mode... by waving the controller at the TV screen to capture Pokémon."

The report went on to clarify that Nintendo is designing the games for both longtime fans and relative newcomers, saying "We want these games to be played not only by longtime Pokémon fans, but also by consumers whose first encounter with the series was on a dedicated video game platform with Pokémon: Let's Go, Pikachu! and Pokémon: Let's Go, Eevee!"


Pokemon Sword / 26 Apr 2019 10:29 AM PDT
Pokemon Sword and Shield Will 'Emphasize' Switch Handheld Mode
Share.
As opposed to the TV mode focus of Let's Go.

By Colin Stevens Pokemon Sword and Shield are being developed to "emphasize the fun of playing Nintendo Switch in handheld mode."

Revealed in a financial results briefing for the fiscal year ending March 2019, Nintendo says that last year's Pokemon: Let's Go, Pikachu! and Eevee! were "designed to highlight the fun of Nintendo Switch in TV mode... by waving the controller at the TV screen to capture Pokémon."

The report went on to clarify that Nintendo is designing the games for both longtime fans and relative newcomers, saying "We want these games to be played not only by longtime Pokémon fans, but also by consumers whose first encounter with the series was on a dedicated video game platform with Pokémon: Let's Go, Pikachu! and Pokémon: Let's Go, Eevee!"

Pokemon Sword and Shield will be the first mainline Pokemon games designed for a home console, but considering the Switch is both a home console and handheld system, it appears developer GameFreak is designing these two branches of Pokemon games, the mainline entries and Let's Go entries, as handheld-centric and TV-centric games (respectively). Of course, Let's Go could be played both handheld and docked, though some considered it easier to catch Pokemon while in handheld mode.

As the mainline Pokemon series has always been a handheld affair, this news likely doesn't mean Pokemon as we know it will be radically changed in Sword and Shield. In fact, it may mean that features like trading could be just as emphasized as ever, while still being playable in a docked state.
The New Detective Pikachu Trailer Will Explode Your Heart!
Posted by: Avia - Apr 24, 2019 8:59 AM - No Replies
https://io9.gizmodo.com/the-new-detectiv...1834215090


Oh my god. Oh my god? It's too cute to bear.

Part of the enticing appeal of Detective Pikachu's appeal is that it has somehow managed to take the classic designs of the Pokémon franchise's vast array of pocket monsters and made them straddle this hyper-real balance of being both completely horrifying and yet somehow still extremely adorable. Past footage has emphasised the creep factor of the movie's aesthetic, but this new trailer—courtesy of Detective Pikachu himself, Ryan Reynolds—reminds us of what a wonderful Pokéworld the film lives in.

No literally, they set it to "What a Wonderful World." And it's just filled with adorable shots of Pokémon being all lovely and cute.

Despite looking far cutesier in the games and anime, Pokémon have always been a little messed up. From ghost Pokémon luring away the souls of kids into the night, to the fact that 10-year-olds run around with literal divine beings in their back pockets like it's no big deal, the cuteness has always been a welcome distraction from the fact that thinking a little too hard about the logistics of the Pokémon nation will drive you insane. But maybe that's the point, too—thinking cynically about the dark heart of a world like Pokémon makes you forget that it's primarily about finding a delightful, capital-R-Romantic idealism in an adventure with cute little critters. Embrace the weirdness, sure—but with it, the earnest adorability of the Pokémon world.

Maybe then you too can get a little teary-eyed at the prospect of an electric rodent being hugged by a psychic duck on a Monday morning. Detective Pikachu hits theaters May 10.
Pokemon Go: Shiny Meltan Returning Next Week For A Limited Time!
Posted by: Avia - Apr 22, 2019 12:42 AM - No Replies
https://www.gamespot.com/articles/pokemo...0-6466379/


If you missed the chance to catch a Shiny Meltan in Pokemon Go back in February, you're in luck. Niantic is bringing the Meltan event back for a limited time beginning Wednesday, April 24, giving players around the world another opportunity to capture the Shiny form of the Mythical Hex Nut Pokemon.

Unlike other Pokemon, Meltan will only appear in Pokemon Go if you've opened the Mystery Box, an item you get in the mobile game after you've transferred a Gen 1 Pokemon to Let's Go Pikachu or Eevee on Nintendo Switch. Typically, the Mystery Box will close after 30 minutes, and you'll need to wait seven days before opening it again; during the Meltan event, however, you'll be able to re-open it after three days, allowing you to find Meltan much quicker than usual.




You'll also have a chance of encountering a Shiny Meltan each time you open the Mystery Box. You can tell the Shiny variant apart by its darker head and blue tail. If you manage to catch a Shiny Meltan and evolve it into Melmetal, it'll retain its Shiny coloration. However, you'll only be able to find Shiny Meltan until May 5, so you'll want to act fast if you're hoping to get one. You can read more on how to catch the Mythical Pokemon in our Meltan and Melmetal guide.

Meltan isn't the only Shiny Pokemon appearing in Pokemon Go soon. To celebrate the inaugural Safari Zone event in Singapore, the rare Gen 2 Pokemon Shuckle will be appearing around the world from April 20-21. During that time, players will also have their first chance to find Shiny Shuckle. Shiny Latios is also available as part of a special Raid event, which is set to end on April 22.

Not long after the Meltan event ends, Niantic will be holding Pokemon Go's next Community Day. That event is scheduled to take place on Sunday, May 19, and this time around the featured Pokemon will be Torchic, one of the three starters from Pokemon Ruby and Sapphire. You'll also be able to earn triple the usual amount of Stardust for every Pokemon you catch during May's Community Day.
Pokemon Go Adding New Lucky Friends And Avatar Poses!
Posted by: Avia - Apr 12, 2019 3:54 PM - No Replies
Pokemon Go has been receiving a regular stream of new events and Pokemon over the past few months, but that's not the only new content Niantic has in the works for it. In a blog post on the Pokemon Go website, the developer shared the first details on Lucky Friends and avatar poses, two new features coming to the hit mobile game.

Lucky Friends is a new level of friendship you can achieve once per day with players you've become Best Friends with. Much like Lucky Pokemon, there's a chance you'll become Lucky Friends when you interact with a Best Friend, be it by trading Pokemon, opening gifts from each other, challenging them to Trainer battles, or fighting alongside them in Raids.

If you do become Lucky Friends, you'll both see a notification indicating it, and your next trade is guaranteed to give you both Lucky Pokemon. Once the trade has been completed, however, your friendship status will revert to Best Friends, although Niantic says you will have a chance to become Lucky Friends again the following day through the same methods.

In addition to the Lucky Friends mechanic, Niantic is introducing avatar poses to Pokemon Go. These can be purchased through the in-game Style Shop for 500 Coins apiece and allow you to customize your Trainer's pose in your profile, the Friend list, and other areas where your avatar appears.

Pokemon Go's next in-game event is the Legendary Lunch Hour, which runs from 12-1 PM local time on April 10. Shortly after that, Niantic will hold this month's Community Day on Saturday, April 13. The Legendary Pokemon Latios is returning for a special week-long Raid event from April 15-22, and the annual Eggstravaganza event is coming back for another year starting April 16.
https://www.gamespot.com/articles/pokemo...0-6466135/
Get [UX] Arceus and more in the Pokémon Duel spring campaign!
Posted by: Avia - Apr 12, 2019 3:52 PM - No Replies
Celebrate spring with a bounty of log-in bonuses in Pokémon Duel! From now until May 8, you'll get weekly rewards and a chance to pull powerful new figures—including [UX] Arceus! Its Multitype Ability allows it to copy the type of another Pokémon on the field.
Pokémon Sword and Shield: 10 Things We Already Know About The Game!
Posted by: Avia - Apr 10, 2019 12:31 AM - No Replies

Using the February 27th Nintendo Direct to announce game info, The Pokémon Company treated us to the latest addition to the mainline games: Pokémon Sword and Shield. After Let's Go Pikachu and Eevee, it seems like Nintendo's learned a lot about how that gameplay experience, of what worked and what didn't.

They were preparing us all for a new evolution in Pokémon. Now fully making the leap from handheld systems to console, Sword and Shield has some high expectations to live up to. Given how much Sun and Moon changed the Pokémon formula, Sword and Shield needs to be better, graphically beautiful, and continue tapping into that core spirit of Pokémon that keeps us coming back for more.

After rumors and some time to fully digest that trailer, here are 10 things we already know about the game.



10. The New Starters






As with any new Pokémon game, we're treated to three new starters: Scorbunny, Grookey, and Sobble. Fire, Grass, and Water type Pokémon are always the first to start any adventure (minus that one time Pikachu was) and due to how the type match-ups work, it makes sense. Those three are the easiest to start your journey with, especially when your first gym has a disadvantage to at least one of the starter types.

We don't know their evolutionary chains yet, but given how past evolutions have gone, they'll most likely end as dual types. Dual type evolutions actually go back to Generation I of Pokémon, with Venasaur being a Grass/Poison type and Charizard being Fire/Flying. Poor Blastoise, at least make it part Rock. Blastoise deserves some dual love too.



9. The Galar Region






Unlike the Let's Go games, Sword and Shield will add a new region to the Pokémon world. The Galar region has a blend of very different environments, blending contemporary cities with older architecture. So far, it looks like it was inspired by England which is equal parts awesome and hilarious given that Kalos was inspired by France.

But it's cool to see Pokémon continue to expand their world to reflect ours. In certain cases, The Pokémon Company bases a region or city on a real-world equivalent. Alola was definitely inspired by Hawaii and Unova draws from the NYC metropolitan area.

The first four regions fall more into fan speculation, but it's easy to draw the conclusion that they were based off certain areas of Japan. The Kanto region is pretty much a given, seeing as there's a Kanto region of Japan and for the most part, remains similar in geography to its IRL equivalent. The Johto region aligns with the Chubu region to the west, Hoenn with Kyushu in the south, and Sinnoh with the northernmost island of Hokkaido.




8. New Pokémon!






This one should be a given, but just in case: yes, there will be new Pokémon. Usually, the only exceptions to this rule are remakes of games, such as Alpha Sapphire and Omega Ruby, or the "new and improved" releases, like Ultra Sun and Ultra Moon.

So far, we can only officially confirm the three new starters. But we're getting our fair share of familiar faces too! Pikachu, Hoothoot, Wailmer, Tyranitar, and Flygon all made an appearance in the trailer. The games have slowed their roll on adding more than 100 Pokémon to each new generation, which is probably for the better. An updated PokéRap would be impossible. But given the trend of the newer mainline games, we can probably expect to see between 70 and 80 new Pokémon.

7. Gyms, Not Trials




Sword and Shield has us going back to the classic Gym battles that made Pokémon so popular. It's bittersweet. The creation of the trials and introducing solid mini-boss battles into the story was a welcome change of pace. Going back to a Gym format feels like taking a step back rather than forward, though we still don't know how many Gyms will be in this game.

For the most part, the Alolan trials were a welcome change of pace and introduced some fun concepts like Z Powers and Guardian Pokémon as the pseudo-Legendaries. And it was nice seeing a Legendary that's entire purpose was destroying the world. Kudos to you if you kept the nickname "Nebby."



6. Gym Masters?





In a now-deleted tweet from the official Nintendo of America Twitter, the company mentioned something about the inclusion of Gym Masters rather than the typical Gym Leaders. There's not a lot we can say on this topic, but given the potential title switch, it could lead to a different Gym experience.

A good blend of trials and Gym battles could be cool, given that some of the puzzle elements of the trials were a bit tedious. If Sword and Shield can refine that and merge it with the traditional setup and battles, it could work really well.



5. Changes from Let's Go Pikachu! and Let's Go Eevee!






Tzunekazu Ishihara, head of the Pokémon Company, assured us that Sword and Shield will be a complete Pokémon game. The Let's Go titles refined many of the aspects from the more accessible Pokémon GO and adapted the concepts well to console-based play. But an entire, full-length game of that? Maybe not the best idea.

In the trailer, we see our character encounter a wild Pikachu. So we definitely know the random encounters are back, which many prefer over the Let's Go style. Hey, if it ain't broke, don't fix it. Overall, Sword and Shield looks and feels like a more traditional Pokémon game and maybe that's exactly what the Switch needs.



4. Only On The Switch






As of the Nintendo Direct announcement, Sword and Shield will only be available on the Nintendo Switch. Kind of a bummer for those of us still on the 3DS and living vicariously through them.

In all seriousness, the transition makes sense given the Let's Go games. Pokémon makes a habit out of releasing sort of "test" games before finalizing a mainline game or taking the time to finesse a mainline game during the off year. So hopefully, we'll see the best from Let's Go in Sword and Shield.



3. That Late Year Release






The Pokémon Company confirmed that Sword and Shield will be dropping in late 2019. Given past experience and common sense, this will most likely be around mid-November. But Pokémon actually confirmed this about a year ago on their Twitter. We were just hoping for, you know, an actual date with the trailer.

2. 3D Graphics




We haven't had a 2D Pokémon game since Generation III on the GameBoy Advance. Diamond and Pearl up to Black and White saw the start of the 3D environment, but still using 2D animations for the Pokémon battles. Starting with the Kalis region in X and Y, Pokémon fully transitioned to 3D graphics and they haven't gone back since.

Though we may miss the old graphics, the new models offer better flexibility considering the team has to animate over 800 Pokémon. It's amazing that there are so many Pokémon models available in the Amie feature. Whoever animated a happy Giratina is a hero.

1. Pokémon World Cup?

One of the key features in that deleted Nintendo tweet was a structure that looks like a football (soccer for Americans) stadium. Outside of the States, football is a really big deal and among many, is considered the most popular sport worldwide. The FIFA World Cup is played every four years. Around 210 countries participate in the sport, though only 32 make it to the qualifying rounds.

Galar probably won't go that hardcore, but considering how popular football is worldwide and where Galar is based on, it makes sense to finally introduce the sport in a very Pokémon way. The anime sometimes shows brackets of competitors within the Pokémon League, why not transition some of that over to gameplay?
https://screenrant.com/pokemon-sword-shi...rmed-news/
Pokemon GO shiny out, armor in, surprise event for April!
Posted by: Avia - Apr 09, 2019 1:31 AM - No Replies
https://www.slashgear.com/pokemon-go-shi...-08572418/



Near the end of the Pokemon GO Bug Out event a set of codes appeared in the game's back-end pointing to a new contender. This is a new form of Mewtwo, one of the most epic Pokemon in the game – and indeed in the history of the game series. If what we've seen this weekend is true, the newest version of the original Pokemon Movie is a good sign of what's to come in-game!

Three "forms" of Mewtwo are now in the code for the game Pokemon GO. They include Mewtwo_A=133, Mewtwo_A_Intro=134, and Mewtwo_Normal=135. This update to the code included a change to the way in which Incense summons Pokemon, too. In the near future, Incense will work with new "forms" as well as originals. You'll have a chance to see shiny Pokemon right on your front doorstep! It's been tipped that Armored Mewtwo was considered in the recent past – whether or not it'll make the final cut, we shall see!

An update to search parameters was made this past week as well – if you're used to searching for "baby" Pokemon, you'll now want to search "eggsonly" instead. That's true even though it's not sensible and makes for a much more confusing set of rules, when it comes down to it – but it is is what it is!

The update version 0.139.1 included references to Adventure Sync V2 with notifications for nearby Pokemon/special items. Descriptions were added for a number of new Alolan Pokemon in the Pokedex. A set of new poses were added for both male and female users, including: Go Time, Left-Hip Stance, Right-Hip Stance, Power Pose, Tough Stance, Pokeball Show-off, Sassy Pokeball, Prized Pokeball, Pokeball Flex, Holding Pokeball, and Idle. There'll be a new set of badges that arrive in-game on April 18th, and more for the 19th, 20th, 21st, and 22nd.

While Niantic previously noted that there'd be a Pokemon GO Safari Zone event in Germany this year, a wide variety of Safari Zone tasks lead us to believe the event may be more widespread. Included in the Safari Zone tasks added to the list are: Earning candy for walking with a Pokemon Buddy, Catching a Pokemon, Using berries to help catch Pokemon, Sending gifts, Spinning PokeStops, Hatching Eggs, Using Nanab Berries, Using Pinap Berries.

There's a new set of scheduled and free raids added (without specific dates/times) near a campaign events button, and new imagery for Promotional PokeStops and gyms. Users will find more features and bonuses (likely) for interacting with Lucky Friends soon, too.




UPDATE: There'll be at least one major event in April (aside from the list of dates mentioned above). Niantic revealed today that on Apr. 10, 2019, from 12:00 p.m. to 1:00 p.m. in your local time zone there'll be a new Legendary Lunch Hour. At this limited event, users will find "an increased number of five-star raids featuring Origin Forme Giratina during the event hour."
Pokemon Go: Latios Returning For Special Raid Event Next Week!
Posted by: Avia - Apr 09, 2019 12:56 AM - No Replies
https://www.gamespot.com/articles/pokemo...0-6466105/


Niantic is bringing another Legendary Pokemon back to Pokemon Go for a limited time. Beginning Monday, April 15, the Eon Pokemon Latios will make an encore appearance in the hit mobile game as part of a special Raid event, giving players their first opportunity to capture it in nearly a year.

Latios is scheduled to appear in Raid Battles for a full week, leaving the game again on April 22. As before, you'll first need to team up with other players in real life and battle the Legendary Pokemon before being able to catch it. Niantic teases that you'll also have a chance of coming across a Shiny Latios during the Raid event.




Latios first appeared in Pokemon Go alongside its twin, Latias, last May. The other Eon Pokemon returned for its own special Raid event back in February. Both Latios and Latias are dual Dragon/Psychic-types, which makes them vulnerable to Ghost and Dark Pokemon like Gengar and Tyranitar. Other Dragons like Salamence and Pokemon Go's current Legendary, Giratina, will also be effective against it.

Ahead of the Latios Raid event, Niantic is holding another Legendary Lunch Hour this week, on April 10, from 12-1 PM local time. During that hour, there will be an increase in five-star Raids featuring Giratina in its Origin Forme, which has more attack-oriented stats than its standard Altered Forme.

Following the Legendary Lunch Hour, Niantic will host the next Pokemon Go Community Day this Saturday, April 13. That event will run from 3-6 PM local time and will feature increased spawns of the rare Dragon Pokemon Bagon. Niantic also announced a series of Pokemon Go Fest events for Chicago, Germany, and Asia later this summer.
Pokemon Sword and Shield - 7 gameplay features we want to see in next Nintendo Switch
Posted by: Avia - Apr 07, 2019 2:49 PM - Replies (2)
https://www.dailystar.co.uk/tech/gaming/...witch-game



Pokémon Sword and Shield are out later this year, and fans of the franchise are wondering what new features the games will bring.

After watching and re-watching the reveal trailer more times than is probably healthy, we've compiled a list of new things we are desperate to see in Pokémon Sword and Shield.



1. British Flavour



The games' new region is called Galar and it appears to be based on the United Kingdom, with in-game landmarks riffing on Westminster, the London Eye and Hadrian's Wall.

As well as nods to our geography, it would be amazing to see British culture influencing other aspects of the games too.

For example, British institutions such as top universities and the humble pub might be a good place to get gossip on rare Pokémon locations.

A Legendary Pokémon for each of the Home Nations would also be fun, perhaps with Wales getting a giant red Dragon-type to match its flag.



2. Exciting New Pokémon Designs



Hawaii-based Alola (the Pokémon Sun and Moon region) introduced awesome surfing and palm tree Pokémon variants, so we would love to see lots of British-themed Pokémon in Sword and Shield.

There are also rumours that armoured Pokémon are going to feature in Sword and Shield, based on the fact that Nintendo recently trademarked the term "Armoured Mewtwo".

With that in mind, perhaps classic Pokémon in Medieval British garb would be fun. Dragonite transforming into Drago-knight would be a no-brainer!

3. More Eevee Evolutions

By utilising different evolution stones and other mechanics, you can evolve your normal-type Eevee into eight different types, with each new iteration zanier than the last.

But with eighteen different Pokémon types, could we be seeing the Eevee family tree expand even more?

Based on previous form it seems likely that Game Freak will add an Eevee evolution or two, but maybe they could go one step further? An Eevee evolution for every single type would be incredible.

Just thinking about a Fighting-type or Bug-type Eevee has us rubbing our hands together in anticipation!

4. A Much Better Story

The Pokémon games always feature the same core storyline:

Whilst training to become a Pokémon Master, your protagonist comes across Team Rocket/Skull/Galactic/Magma/Flare/Plasma/(you get the idea), as they attempt to harness the power of a legendary Pokémon for nefarious reasons.

Though this formula works, it really is starting to get repetitive so it would be great for Sword and Shield to move in a new direction and tell a different story.

The possibilities really are endless, with mysteries, love stories and even war dramas being ideas that fans have suggested as a possibility.

5. More Mega Evolutions

Mega Evolutions were introduced in Pokémon X and Y and they were awesome. But, disappointingly, follow up games Sun and Moon added no new Mega Evolutions.

Instead, the feature was kind of replaced by Z-moves – eighteen special moves, one for each type that can only be used once per battle.

Whist Z-Moves were fun, nothing could beat watching your Charizard Mega Evolve for the first time into a new, super-powerful variant.

More Mega Evolutions would be very welcome, and seeing old fan-favourite Pokémon get powerful new forms is a sure way for Game Freak to please the fan base.

6. Better Post-Game Content

Many hard-core Pokémon fans think that the game doesn't really begin until you've beaten the Elite Four and moved into the post-game.

In the best Pokémon games, this is where trainers in the overworld really begin to level up and offer a serious challenge to players.

Previous core Pokémon games offered the Looker missions where the player was sent on detective work, but other games have simply left you to complete the Pokédex with little else to do.

It would be great if Sword and Shield could make the post-game as enjoyable as the core game itself, perhaps focusing on new storylines or even new areas which open up once you have beaten the Elite Four.

7. A Harder Mode for More Experienced Players

Experienced Pokémon players must have been taught how to throw a pokeball at the start of the games at least a hundred times by now.

At present, there is no opportunity for players to skip the tutorial section of the games and, in some cases, this can drag on for the initial few hours of gameplay.

An option to skip this portion of the game would allow experienced players to jump straight into the action.

Failing this, at least give us an option to raise the levels of the most important trainers' Pokémon. We're trying to prove that we're "the very best like no one ever was" over here!

I still want roaming Pokemon back. Both one following the trainer and wild encounters.