Giovanni & Mewtwo attack! | Pokémon Masters
Posted by: Avia - Yesterday 3:58 PM - No Replies
Is that...Giovanni & Mewtwo?! Where did they come from? And what does this mean for Pasio?!

There's only one way to find out, Trainers. Are you up for the challenge?
Pokémon GO December Community Day: A Pokémon Extravaganza!
Posted by: Avia - Nov 26, 2019 6:59 PM - No Replies
Get ready, Trainers! A Pokémon extravaganza awaits you this Community Day. On the 14th AND 15th of December, you'll have a chance to catch all the Pokémon from previous 2019 Pokémon GO Community Days! So grab your Poké Balls, get up, and GO!
GTS Sword & Shield 2019 Winners!
Posted by: Avia - Nov 25, 2019 5:16 PM - No Replies


Thanks for playing!
Galar Research Recap | #PokemonSwordShield
Posted by: Avia - Nov 11, 2019 6:15 PM - No Replies
Take a look back at what we've uncovered, then get ready to make new friends, face new challengers, and catch new Pokémon! Let us know in the comments below what you're most excited to explore in Pokémon Sword and Pokémon Shield.
GTS 2019 Event Winners!
Posted by: Avia - Nov 09, 2019 11:50 PM - Replies (9)
They were drawn tonight after our game night, they are:

- Battery Bug
- FlameTheDragon
- Maris

Bug picks Shield, FlameTheDragon picks Sword & Maris picks Sword!
Baby Pikachu's origin story will be explored in the new Pokemon anime series!
Posted by: Avia - Nov 03, 2019 1:50 PM - No Replies
https://www.gamesradar.com/baby-pikachus...me-series/



A trailer for the new Pokemon anime series based on the first episode has been released, which looks set to explore the origin story of Pikachu as a Pichu before the little mouse met Ash. The first episode is titled "the Birth of Pikachu," and will give us our first look at the adorable baby Pikachu's story in the Kanto region.





The trailer was released on the official Japanese website for the anime series, with the show set to air in Japan on November 17. While the trailer is in Japanese, Crunchyroll reports that the Pichu depicted appears to allude to Pikachu before the little mouse was all grown up and teamed up with the iconic trainer.

A synopsis for the first episode was also detailed on the website, and thanks to Crunchyroll's translation, we know it reads:

"In a forest somewhere in Kanto, there once was a lonely Pichu. This Pichu - who was still quite young - had a certain encounter and farewell. This took place shortly before Ash and his partner Pikachu started travelling together. This is the beginning of the anime "Pocket Monster.""

"A lonely Pichu" - are you crying yet? Because I am. In the trailer you can also see Pokemon new and old make an appearance, including Pokemon from Pokemon Sword and Shield's new Galar region - which makes sense given the new series will launch shortly after the worldwide release of the game.

The series will see Ash join up with a new companion and protagonist by the name of Gou, who apparently dreams of finding Mew and catching em' all. With a new art style that's more in-keeping with the cartoony look of the Pokemon: Sun and Moon animated series than the original 1997 series, the adventure will once again begin in the Kanto region.
Grookey and Sobble evolutions have (possibly) leaked!
Posted by: Avia - Nov 01, 2019 2:31 PM - Replies (4)
https://www.nintendoenthusiast.com/grook...d-pokemon/



We are swiftly approaching the launch of Pokémon Sword and Shield. With only two weeks to go, many avid fans are still perplexed that we know so little about the game's new Pokémon. We have no official information about the evolutions of the three starters. Even Impidimp, a Pokémon featured heavily during the forest livestream, was never officially revealed. However, it appears that we might have a little leak on our hands, and we might now know what Sobble and Grookey will look like once they evolve.

A throwaway account named @LeakPokemon posted on Twitter two screenshots of the potential mid-forms of the Sobble and Grookey lines. The account was quickly deleted, but the tweet itself was screen capped by several people, including prominent leaker Sabi.




The awkward teenage evolutions…

Sobble's evolution appears to turn into Brendon Uxie of Poké! at the Disco. It's a very appropriate evolution, if I do say so myself. The progression from sensitive child to emo teen is something many Millennials can identify with. Grookey's evolution dual-wields two sticks not unlike a drummer, continuing Grookey's possible musical theme. Sadly, Scorbunny's evolution is absent from the leak, which means we're going to have to wait even longer to see if it turns into a dreaded Fire/Fighting.

Whether it's an actual leak or just some fancy fan art is still up for debate. The screenshots are fairly high-quality and this isn't some random 4chan text leak, but Nintendo fans should always remember Super Smash Bros. Ultimate's infamous "Grinch Leak." Still, this also isn't the first time starter evolutions have been leaked like this. Decidueye, Incineroar, and Primarina were all leaked months before Pokémon Sun and Moon's release via confidential anime concept art.

Only time will tell if the leak is a genuine one. But even if it isn't genuine, these are still some neat designs.

I like those, I hope they're real!
Pokemon Sword and Shield Length Revealed
Posted by: Avia - Oct 29, 2019 8:02 PM - No Replies
https://comicbook.com/gaming/2019/10/29/...-how-long/


How long will Pokemon Sword and Shield be? Well, according to Game Freak, the Nintendo Switch exclusive titles will be roughly as long as previous games in the series and include a similar amount of content. In other words, if you want to mainline the games, it will take you about 30 hours. Meanwhile, the average playthrough will be roughly 50 hours. And lastly, if you're a completionist, you could be looking at 100-150 hours.

Word of the game's approximate length comes from director of the game, Shigeru Ohmori , who revealed as much while speaking with Game Informer. Further, according to Ohmori, the game's new Wild Area should add a considerable deal of replayability.

"I think it's hard to go into details of that, but in terms of the volume or the amount of content in the main adventure, it's comparable to other Pokemon generations that we've played," said Ohmori. "I think there's a lot of interesting activities that, for example, completing the Pokédex or really going out into the Wild Area and engaging with those mechanics, that'll add a lot of replay value for players who are looking to get really hardcore into that."

Pokemon Sword and Shield are set to release November 15 via the Nintendo Switch. For more news, rumors, leaks, media, and information on the upcoming pair of games, be sure to peep all of our previous and extensive coverage of the titles by clicking right here. Meanwhile, as always, feel free to leave a comment or two letting us know what you think or, alternatively, hit me up on Twitter @Tyler_Fischer_ and let me know over there.

"Begin your adventure as a Pokemon Trainer by choosing one of three new partner Pokemon: Grookey, Scorbunny, or Sobble," reads an official pitch of the game. "Then embark on a journey in the new Galar region, where you'll challenge the troublemakers of Team Yell, while unraveling the mystery behind the Legendary Pokemon Zacian and Zamazenta! Explore the Wild Area, a vast expanse of land where the player can freely control the camera. Team up with three other players locally or online in the new multiplayer co-op Max Raid Battles in which players will face off against gigantic and super-strong Pokemon known as Dynamax Pokemon."
G I G A N T A M A X P O K É M O N are coming to Pokémon Sword and Pokémon Shield
Posted by: Avia - Oct 16, 2019 3:07 PM - Replies (4)




Gigantamax Piachu just looks like the classic artwork
Pokemon Go Trainer and Beginner Box, One Time Only!
Posted by: Avia - Oct 08, 2019 8:47 PM - No Replies
https://www.futuregamereleases.com/2019/...ox-bundle/



Trainers, the Trainer Box and the Beginner Box have been discovered in Pokemon Go's GM file at the beginning of October and it looks like someone at Niantic pressed the wrong button and made them available for purchase today.

Two new Trainer and Beginner Boxes have been discovered at the beginning of October and they were listed on iTunes and Google Play Store each box for $0.99.

Today, well a few moments ago, Niantic released these boxes and removed them after some time, and thanks to the Pokemon Go community, we now have a first look at the contents of the Beginners Box.

We believe that Niantic launched the boxes by mistake, but let's take a look at the contents of the Beginner's Box, thanks to SGC-1:



In addition, the GM master file has been updated and according to the changes discovered in the file, these boxes will be a limited purchase, most likely during the upcoming A Colossal Discovery event.

That's all we have, for now, so make sure to come back and visit us again.
Pokémon Sword & Shield Will Feature 18 Gyms As Part Of A Major & Minor League!
Posted by: Avia - Oct 01, 2019 7:42 PM - Replies (16)
https://www.thegamer.com/pokemon-sword-s...e-18-gyms/



Pokémon Sun & Moon did away with Pokémon Gyms and now Pokémon Sword & Shield is going to the other extreme by having eighteen Gyms in the Galar region.

The typical Pokémon journey involves traveling the region and defeating eight Gym Leaders in order to win their Badge. The player needs all eight Badges in order to challenge the Elite Four and the Champion. Pokémon Sun & Moon and Pokémon Ultra Sun & Ultra Moon replaced the Gym Leaders with the Island Challenge, which included tasks outside of Pokémon battles.

It seems that the Galar region is more in love with Pokémon Gyms than Alola, as Game Informer has revealed (via Serebii) that Pokémon Sword & Shield will include eighteen Gyms. The Gyms will be broken down into a Major league and a Minor league, with both games featuring different Gyms in each league.

The existence of a Major & Minor league for Pokémon Gyms is another reference to soccer, as the UK has the Premier League at the top of the sport and several minor leagues below it. There is a process of promotion and relegation, which can allow different teams to enter or leave the Premier League depending on their performance.

The other interesting aspect of having eighteen Pokémon Gyms is that there are currently eighteen different Pokémon types, which suggests that every type will be represented in a single generation for the first time. It's possible that they could bring back the concept of the Double Battle Gym just to prevent a Dark-type Gym from existing, but the fact that there are eighteen Gyms suggests that Game Freak will finally give the Dark-type its due.

The Gym Leader challenge has provided some of the most memorable battles in the Pokémon series, with the fights against characters like Whitney and Fantina being some of the challenging moments in the history of the games. Pokémon Sword & Shield might have done away with the Elite Four, but they have doubled down on Gym Leaders for the player to battle.

Pokémon Sword & Shield will be released for the Nintendo Switch on November 15.

18 gyms!
Bearcam, but make it Pokémon!
Posted by: Avia - Sep 29, 2019 3:39 AM - Replies (2)
https://www.theverge.com/2019/9/27/20886...tober-news



Pokémon is entering the wild world of animal camming with a new "live stream." Beginning at 6AM PT / 9AM ET on October 4th, The Pokémon Company will broadcast "live footage for 24 hours from a camera set up in Glimwood Tangle—a strange forest located deep within the Galar region."

Sure, it's no bearcam, but it's fair to expect a few early looks at brand-new pokémon. Pokémon Sword and Shield's release date is creeping ever closer: both games are set to launch November 15th on the Nintendo Switch.

Will any of them top the surprise announcement of Sirfetch'd? Or those unfortunately designed cream pokémon? Hard to say, but dare to dream.




Pokemon, new Anime series?
Posted by: Avia - Sep 27, 2019 9:15 AM - No Replies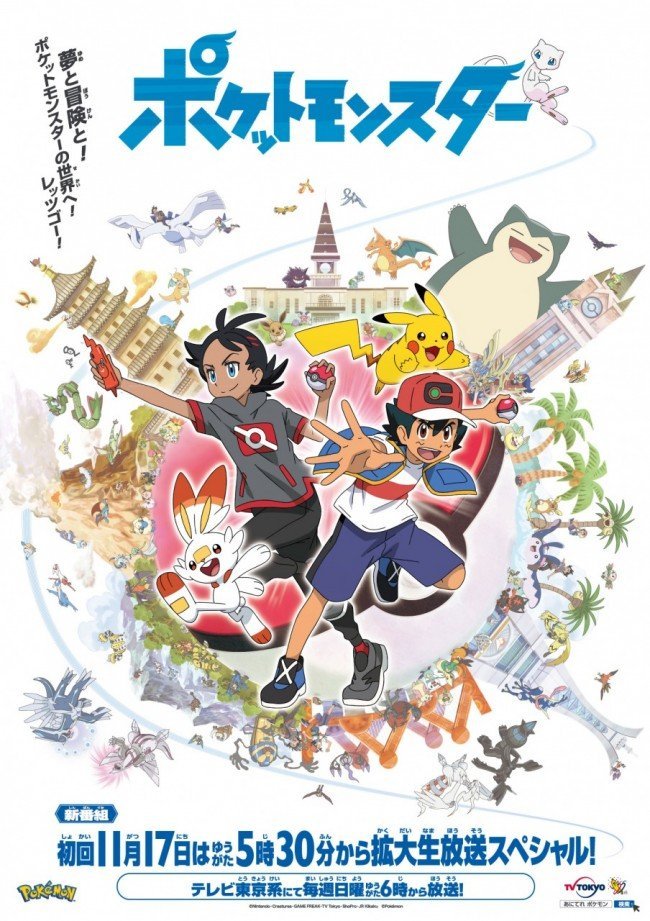 Ahead of the reveal coming on Sunday, an image got shared on Japanese image boards that potentially showcases the first look at the brand new anime series for Pokémon. As revealed before, this series is said to take place in all regions and the artwork shows this with prominent areas of each region and their Pokémon dotted around an image of Ash & Pikachu and a new character who has a Scorbunny. Do note that this is currently unconfirmed. We're currently investigating further and will provide full details as and when they come so be sure to check back on Sunday when there's official.
https://www.serebii.net/
Pokémon's New York-inspired monsters join 'Pokémon Go' today!
Posted by: Avia - Sep 16, 2019 11:46 PM - No Replies
https://www.engadget.com/2019/09/16/poke...available/



Starting today, September 16th, Pokémon Go players can begin collecting Pokémon from the series' fifth generation of games. As with any of the other Pokémon you could collect previously, you'll be able to catch Gen 5 monsters by finding them out on your daily commute, taking part in the game's co-operative 'Raid' mode and by hatching eggs. Some of the more notable additions included in today's update are Gen 5's three starters, Snivy, Tepig and Oshawott. For the full list of new Pokémon, as well as information on how to obtain them, visit developer Niantic's website.





If you grew up playing Pokémon in the US, Gen 5 is a special one. Pokémon Black and White were the first Pokémon titles to take their inspiration not from Japan but from the United States. The game's Unova region is based on New York State, with Cestelia City its stand-in for Lower Manhattan. Moreover, a lot of the Pokémon that were native to the region took their inspiration from different aspects of the city. Take Watchog, one of the Pokémon joining Go today, for instance. It wears what is essentially an MTA maintenance worker vest. Another, Lillipup, is based on accessory-sized Yorkies. Speaking of the MTA, in Black and White, you could also do battle on the subway system, and it was one of the most fun aspects of the game. With almost a decade since the originals came out, now is a great time to revisit that era with Pokémon Go.

Sinnoh finally comes to Pokemon Go!