G I G A N T A M A X P O K É M O N are coming to Pokémon Sword and Pokémon Shield
Posted by: Avia - Oct 16, 2019 3:07 PM - Replies (4)




Gigantamax Piachu just looks like the classic artwork
Pokemon Go Trainer and Beginner Box, One Time Only!
Posted by: Avia - Oct 08, 2019 8:47 PM - No Replies
https://www.futuregamereleases.com/2019/...ox-bundle/



Trainers, the Trainer Box and the Beginner Box have been discovered in Pokemon Go's GM file at the beginning of October and it looks like someone at Niantic pressed the wrong button and made them available for purchase today.

Two new Trainer and Beginner Boxes have been discovered at the beginning of October and they were listed on iTunes and Google Play Store each box for $0.99.

Today, well a few moments ago, Niantic released these boxes and removed them after some time, and thanks to the Pokemon Go community, we now have a first look at the contents of the Beginners Box.

We believe that Niantic launched the boxes by mistake, but let's take a look at the contents of the Beginner's Box, thanks to SGC-1:



In addition, the GM master file has been updated and according to the changes discovered in the file, these boxes will be a limited purchase, most likely during the upcoming A Colossal Discovery event.

That's all we have, for now, so make sure to come back and visit us again.
Pokémon Sword & Shield Will Feature 18 Gyms As Part Of A Major & Minor League!
Posted by: Avia - Oct 01, 2019 7:42 PM - Replies (16)
https://www.thegamer.com/pokemon-sword-s...e-18-gyms/



Pokémon Sun & Moon did away with Pokémon Gyms and now Pokémon Sword & Shield is going to the other extreme by having eighteen Gyms in the Galar region.

The typical Pokémon journey involves traveling the region and defeating eight Gym Leaders in order to win their Badge. The player needs all eight Badges in order to challenge the Elite Four and the Champion. Pokémon Sun & Moon and Pokémon Ultra Sun & Ultra Moon replaced the Gym Leaders with the Island Challenge, which included tasks outside of Pokémon battles.

It seems that the Galar region is more in love with Pokémon Gyms than Alola, as Game Informer has revealed (via Serebii) that Pokémon Sword & Shield will include eighteen Gyms. The Gyms will be broken down into a Major league and a Minor league, with both games featuring different Gyms in each league.

The existence of a Major & Minor league for Pokémon Gyms is another reference to soccer, as the UK has the Premier League at the top of the sport and several minor leagues below it. There is a process of promotion and relegation, which can allow different teams to enter or leave the Premier League depending on their performance.

The other interesting aspect of having eighteen Pokémon Gyms is that there are currently eighteen different Pokémon types, which suggests that every type will be represented in a single generation for the first time. It's possible that they could bring back the concept of the Double Battle Gym just to prevent a Dark-type Gym from existing, but the fact that there are eighteen Gyms suggests that Game Freak will finally give the Dark-type its due.

The Gym Leader challenge has provided some of the most memorable battles in the Pokémon series, with the fights against characters like Whitney and Fantina being some of the challenging moments in the history of the games. Pokémon Sword & Shield might have done away with the Elite Four, but they have doubled down on Gym Leaders for the player to battle.

Pokémon Sword & Shield will be released for the Nintendo Switch on November 15.

18 gyms!
Bearcam, but make it Pokémon!
Posted by: Avia - Sep 29, 2019 3:39 AM - Replies (2)
https://www.theverge.com/2019/9/27/20886...tober-news



Pokémon is entering the wild world of animal camming with a new "live stream." Beginning at 6AM PT / 9AM ET on October 4th, The Pokémon Company will broadcast "live footage for 24 hours from a camera set up in Glimwood Tangle—a strange forest located deep within the Galar region."

Sure, it's no bearcam, but it's fair to expect a few early looks at brand-new pokémon. Pokémon Sword and Shield's release date is creeping ever closer: both games are set to launch November 15th on the Nintendo Switch.

Will any of them top the surprise announcement of Sirfetch'd? Or those unfortunately designed cream pokémon? Hard to say, but dare to dream.




Pokemon, new Anime series?
Posted by: Avia - Sep 27, 2019 9:15 AM - No Replies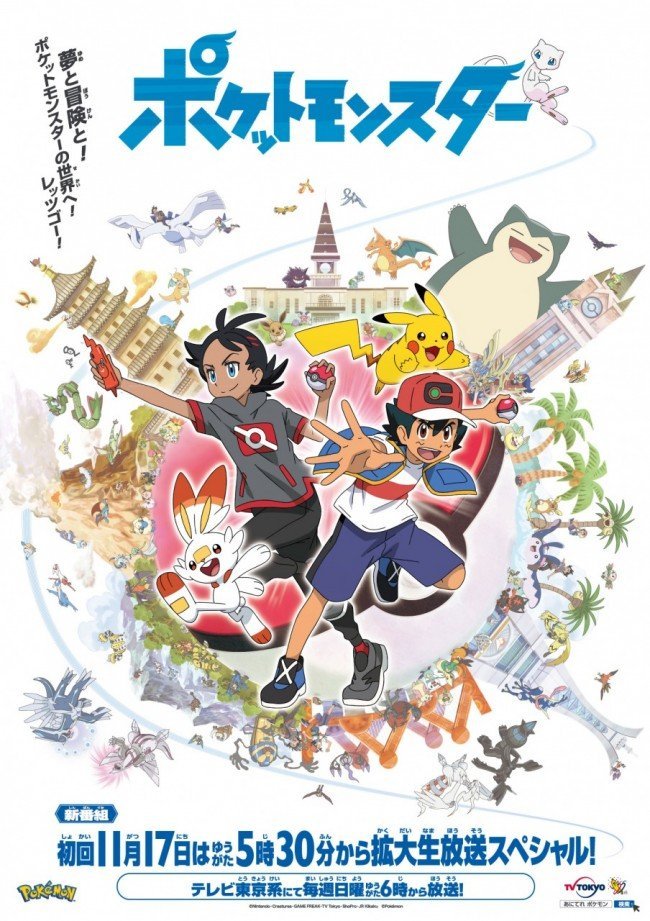 Ahead of the reveal coming on Sunday, an image got shared on Japanese image boards that potentially showcases the first look at the brand new anime series for Pokémon. As revealed before, this series is said to take place in all regions and the artwork shows this with prominent areas of each region and their Pokémon dotted around an image of Ash & Pikachu and a new character who has a Scorbunny. Do note that this is currently unconfirmed. We're currently investigating further and will provide full details as and when they come so be sure to check back on Sunday when there's official.
https://www.serebii.net/
Pokémon's New York-inspired monsters join 'Pokémon Go' today!
Posted by: Avia - Sep 16, 2019 11:46 PM - No Replies
https://www.engadget.com/2019/09/16/poke...available/



Starting today, September 16th, Pokémon Go players can begin collecting Pokémon from the series' fifth generation of games. As with any of the other Pokémon you could collect previously, you'll be able to catch Gen 5 monsters by finding them out on your daily commute, taking part in the game's co-operative 'Raid' mode and by hatching eggs. Some of the more notable additions included in today's update are Gen 5's three starters, Snivy, Tepig and Oshawott. For the full list of new Pokémon, as well as information on how to obtain them, visit developer Niantic's website.





If you grew up playing Pokémon in the US, Gen 5 is a special one. Pokémon Black and White were the first Pokémon titles to take their inspiration not from Japan but from the United States. The game's Unova region is based on New York State, with Cestelia City its stand-in for Lower Manhattan. Moreover, a lot of the Pokémon that were native to the region took their inspiration from different aspects of the city. Take Watchog, one of the Pokémon joining Go today, for instance. It wears what is essentially an MTA maintenance worker vest. Another, Lillipup, is based on accessory-sized Yorkies. Speaking of the MTA, in Black and White, you could also do battle on the subway system, and it was one of the most fun aspects of the game. With almost a decade since the originals came out, now is a great time to revisit that era with Pokémon Go.

Sinnoh finally comes to Pokemon Go!
Ash Ketchum Finally Wins A Pokemon League Championship!
Posted by: Avia - Sep 16, 2019 11:44 PM - Replies (3)
https://gamerant.com/ash-ketchum-pokemon...mpionship/



They said it couldn't be done. For literal decades now everyone made the same joke every time he tried and failed. No one thought it was ever going to happen, except it just did. This week, Ash Ketchum, protagonist of the Pokemon anime, finally won a Pokemon League.

Ever since the world was first introduced to him back in 1997, Ash tried multiple times to prove himself a Pokemon Master by winning in a regional Pokemon League. Time and time again, though, he has failed to do so, often coming teasingly close to victory only to be bested by a stronger trainer without fail. But after 22 years and 1,000+ episodes, Pokemon Sun and Moon Episode 139 saw Ash finally break the cycle and take home the win in the Alolan Pokemon League's championship match. At long last, he became the very best like no one ever was.

Naturally, fans have been ecstatic. All over social media, news of Ash's victory has led to thousands of reactions from people who couldn't believe it actually happened. "Ash Ketchum" has even been trending on Twitter as a result. Seeing him win after all this time and so many losses has proven to be cathartic for countless legions of fans.

It's easy to see why people can get so emotional over a kids' show. It's been around long enough for multiple generations of people to grow up on Ash's adventures throughout the Pokemon world's many regions. They've watched as he made friends, faced challenges, discovered new things, and grew as a Pokemon trainer, and they've rooted for him all the way. So even if they stopped watching the show years ago, many have maintained a fondness for the perennial 10-year old from Pallet Town and the memories he gave them.




Which is why this momentous victory could end up turning bittersweet. Last week word came out that the next Pokemon series coming this fall will be a reboot of the anime. Some marketing has been released for it, but none of it has featured Ash at all, leading to speculation that he'll be getting replaced by a new protagonist. And now that Ash has finally won a Pokemon League, fans are wondering if he only won after all this time so that he could end his time with the series on a high note. After 22 years of trying to win and failing, most can agree he deserves it either way.

Wherever it ends up leading to, there's no doubt that Ash Ketchum's victory is yet another highlight for the Pokemon franchise in in a stellar year that has seen its first major live-action movie in Detective Pikachu and the continuing success of Pokemon GO, and will soon see its first major console release in Pokemon Sword and Shield.

Holy moly, Ash actually became the very best!
The Sword and Shield site is teasing a glitched Pokémon and fans have theories!
Posted by: Avia - Sep 13, 2019 3:09 PM - Replies (2)

There's a new Pokémon being teased on the Pokémon Sword and Pokémon Shield website, and fans are rushing to figure out what it could be.

Early this morning, the official Pokémon Twitter account made an announcement: A new Pokémon has been discovered. The link attached to the tweet brought fans to the game's official website, where a glitch now appears on the right side of the screen. After chasing the glitched out Pokémon across the website with the cursor, the image becomes clickable. The page opens up to a Pokédex listing that's pretty obscured after playing a Rotom's call — the Pokédex in Pokémon Sword and Shield is a Rotom.

Here's what we know: the mystery Pokémon weighs 257.9 pounds and is a fighting type with an ability called Steadfast. "Only [redacted] that have survived many battles can attain this [redacted]," the listing reads. "When this Pokémon's [redacted] [redacted]ers, it will retire from combat."



One of the more popular theories is that the glitched out Pokémon is an evolution of Farfetch'd — everyone's calling it Sirfetch'd, a name that was mentioned in an earlier rumor posted on 4chan. If you rotate the glitched image, it does indeed look like a bird holding, well, a sword and shield. Colors on the sword are green and white, which many people are assuming is some kind of leek weapon; Farfetch'd is known for always carrying around a leek. And if you insert this information into the redacted text on the Pokémon's listing, it does work.

"Only Farfetch'd that have survived many battles can attain this evolution," a Twitter user guessed. "When this Pokémon's stick/leek shatters, it will retire from combat."

Others have begun mocking up images based off the glitches, and yep, the bird theory looks to check out. But some fans are convinced it's a Cubone or a reference to MissingNo., an infamous error that first appeared in Pokémon Red and Blue.

Pokémon Sword and Shield will be released Nov. 15 on the Nintendo Switch. The game brings players to a U.K.-inspired region called Galar.
https://www.polygon.com/2019/9/13/208641...ld-website
The second batch of Ultra Bonuses are now live in Pokémon Go!
Posted by: Avia - Sep 10, 2019 6:09 PM - No Replies
https://www.polygon.com/pokemon-go/2019/...ggs-deoxys



The next part of the Pokémon Go Ultra Bonuses just went live. This week's set of bonuses include Deoxys joining raids and Kanto regional Pokémon hatching from seven kilometer eggs.

Mr. Mime, Kangaskhan, Farfetch'd, and Tauros will be hatching from any newly received seven kilometer eggs, with a chance to be Shiny. Note that any eggs obtained before now won't have any of these regionals in them. Luckily, the regional Pokémon in eggs will continue even after this week's bonus ends. They'll be around until Sept. 23 at 4 p.m. ET. Just like last week, Incubators will hatch eggs in half the distance, so this is a good time to try to score some Kanto regionals that you may be missing.




Deoxys will also be hitting raids and all four of its forms will be available in tier five raids for the first time. Prior to this, Deoxys was only available in EX raids to those who were lucky enough to score a EX raid pass. Other Pokémon who will help counter Deoxys will also be joining in raids at lower tiers. A raid hour featuring Deoxys will also be taking place on Sept. 11 from 6 to 7 p.m. in your local time zone.

Deoxys will leave raids when the next set of bonuses begin on Sept. 16 at 4 p.m. ET.
Pokémon Sword and Pokémon Shield - Nintendo Direct 9.4.2019 - Nintendo Switch!
Posted by: Avia - Sep 04, 2019 8:52 PM - Replies (4)
Check out new details (and two new Pokémon!) for the Pokémon Sword and Pokémon Shield games, launching exclusively for Nintendo Switch on Nov. 15!

Hmm I like this, but I also want to make Magikarp Sushi
It's 2019, and it's time to play Pokémon Go again!
Posted by: Avia - Sep 03, 2019 9:30 PM - No Replies
https://www.polygon.com/videos/2019/9/3/...enaissance






"Everyone should download Pokémon Go again," my coworker Russ Frushtick told me back in June. It seemed like such an innocent comment at the time. Most of the Polygon team was gathering in New York City, and our proximity meant we could do raids and trades together.

Why not? A few times I'd noticed Russ left his phone unlocked on his desk with Pokémon Go running. The GPS drift in downtown Manhattan meant that he was getting steps in and hatching eggs without actually walking. I made fun of him a lot.

I don't make fun of Russ anymore.

Now I'm part of an elite and desperately sad cabal of Pokémon Go players here at Polygon. I've become hooked on the game's systems. My Polygon Show cohost Chelsea Stark described it as "a checklist of a game," and she's right. And I love checklists. I like the slow grind of catching Pokémon, stocking up on candies, assessing which creatures are worth evolving, and tossing the rejects in the candy bin. I love stacking quests and building friendships so that I can crack a lucky egg (earn double XP for 30 minutes), and set off a cascade of achievements that will net me hundreds of thousands of XP.

I made a video about it, and that was hard because the game isn't exactly visually compelling. But I did my best to describe the absolute, nonsensical, out-of-body madness that has gripped me when it comes to Pokémon Go. Yes, I'm addicted to it and talking about it makes me sound like I'm recruiting for a cult. On the other hand, it's soothing and methodical and it's gotten me out of the house this summer.

It's been updated considerably since its 2016 release. If you're looking for "full-feature Pokémon game but on my phone," you'll probably still be disappointed. But if you are looking for inventory management and the platonic ideal of min-maxing, kids, I've got the game for you.


Yeeess! I need more Pokemon Go Friends!
'Pokémon Masters' hits 10 million downloads in four days!
Posted by: Avia - Sep 03, 2019 9:25 PM - No Replies
https://www.engadget.com/2019/09/03/poke...downloads/




The latest Pokémon mobile game, Pokémon Masters, has been downloaded more than 10 million times, according to developer and publisher, DeNA. Moreover, the game achieved the feat in just four days, making it the second-fastest mobile game to hit the milestone behind Super Mario Run.

For further context, it took Pokémon Go a full week to get to 10 million downloads (although at launch you could only officially download Pokémon Go if you lived in the US, Australia and New Zealand). Once Go became more widely available, the game secured one billion downloads in less than a month.

The question now becomes whether Pokémon Masters will be able to maintain its current pace and also hit the magic billion. It seems unlikely, if only because Pokémon Go had a couple of unique things going for it. Beyond the obvious Pokémon tie-in, for a lot of people, Go was their introduction to augmented reality. The game also helped build its own popularity by pushing players to get outside. If you lived in a city, it was impossible to go somewhere in the summer of 2016 and not see someone playing Pokémon Go on the street. In that way, developer Niantic probably got a lot of people who weren't necessarily fans of the franchise to check out the game.

By contrast, Masters features a more straightforward gameplay appeal. To start, you don't have to go outside to play. Instead, Masters is more like past Pokémon games, with trainer battles being the main focus. The twist here is that the game follows a 3-on-3 formula in which the player assembles a dream team of their favorite trainers and their Pokémon from past games. You can download the game now on iOS and Android to see for yourself.

Wow! Is anyone playing yet?
Legendary Raid Hour Returns with Rayquaza This Sunday, September 1st!
Posted by: Avia - Aug 30, 2019 2:33 PM - No Replies
https://pokemongo.gamepress.gg/legendary...tember-1st



August 30th is the last Friday in the month and Rayquaza will be leaving raids just next week, on September 2nd. Players can celebrate the beginning of September with one final sendoff of the Sky High Pokemon with a Legendary Raid Hour on Sunday, September 1st, 2019.

Legendary Raid Hour is a weekly event where the current Legendary Raid Boss(or sometimes a guest) will take over all gyms as a Tier 5 raid for a full hour. This raid hour will take place from 6 PM to 7 PM.


This past Wednesday we saw Azelf, Mesprit, and Uxie receive the Legendary Raid Hour treatment, displacing Rayquaza for the final Wednesday of the month.

This is the first Legendary Raid Hour to fall on a weekend. Everyone will not receive free raid passes for this event. There is no word on what raid boss will be following Rayquaza.
Pokémon Masters is available now!
Posted by: Avia - Aug 29, 2019 6:25 PM - No Replies
This way to Pasio, Trainers! Pokémon Masters is available NOW!

We're celebrating in a big way with special events and log-in rewards!

Is anyone playing this yet?
Returning to Pokemon Go? Here are some must know tips!
Posted by: Avia - Aug 27, 2019 2:25 AM - No Replies
https://www.dexerto.com/pokemon/returnin...ips-952260



If you're returning to Pokemon Go, or even if you never stopped playing, these are some must know tips for trainers of all levels.

If you haven't played in a while then Team Rocket will definitely be new to you and it may also be the first time you encounter PvP battling. Pokemon Go has continually evolved, pun intended, adding various new features and even refining previous mechanics such as appraisals.

One part that has remained largely the same though, is the need to catch Pokemon. After all, you gotta catch 'em all.




You will be spending a lot of your time trying to catch Pokemon so doing giving yourself the best chance of capture is essential. The best way to do that is covered in the link above but at a minimum you should be throwing curveballs every throw as they are 70% more likely to successfully catch.



PokeCoins aren't a must but they're very useful



PokeCoins are the in-game currency for Pokemon Go that allows you to purchase various items. These range from Pokeballs, lure modules and even extra bag or Pokemon space.

They can be purchased with real money or more satisfyingly by defending gyms. This is common knowledge to most Pokemon Go trainers, but what you may not be aware of is how many PokeCoins you can earn and what the limits are.

The most amount of coins you can earn in a single day is 50. One PokeCoin is earned every 10 minutes your Pokemon is defending a gym. This means the ideal amount time your Pokemon will be on that gym is eight hours and 20 minutes.

Therefore, don't waste your Pokemon's HP by putting them on multiple gyms. Spacing out your defenders is key here and you don't want a Pokemon to stay on a gym for days a time.






Don't evolve Magikarp



Unless you have already done so as part of stage 6 of the A Mythical Discovery special research quest. You won't get many opportunities to evolve the harmless Magikarp as it cost 400 candy to do so.

The reason for this is obvious - it evolves into the powerful Gyarados. Accumulating 400 candies is no easy feat so it's vitally important to save this particular evolution so you can get through the quest, and encounter Mew, in a timely fashion.



A legendary Pokemon once per week



If you are willing to complete seven relatively simple tasks a week, you will be granted an encounter with a legendary Pokemon. These are called field research tasks which are obtained by spinning PokeStops.

The tasks will range from hatching an egg to catching x number of Pokemon and completing each will give you a stamp for that day. You can only get one a day and upon the seventh you will encounter one said legendary Pokemon.

The current pool include Latias, Latios Kyogre and Groudon. You can manage these field research tasks so that you encounter one of these Pokemon every single week.
Upcoming Server Move: September 1st - 2nd
Posted by: Avia - Aug 25, 2019 7:17 PM - Replies (1)
Hi everyone,
We'll be moving servers beginning as early as September 1st, Sunday night.

The transition will take a few hours, but DNS updates could take around 24 hours.

Hope to be back online ASAP.
Pokémon Go Water Festival event guide: Field Research and rewards!
Posted by: Avia - Aug 25, 2019 1:51 PM - No Replies
https://www.polygon.com/pokemon-go-guide...crabhammer



A new water-based event has started in Pokémon Go to end the summer. The 2019 Water Festival ups the spawns of water-type Pokémon, brings more water-types to eggs, and also releases a new set of Field Research for players to complete.

The event will increase the spawns mostly around bodies of water, with Wartortle, Poliwhirl, Seaking, Lapras, Qwilfish, Mantine, Lotad, Feebas, Piplup, Buizel, and Finneon spawning around any lakes, rivers, and oceans you may be near. Magikarp, Wooper, Wailmer, and other water-types will spawn more often even when you're not around water, luckily. Shiny versions of Barboach and Carvanha can also be found if you're lucky.




This event features doubled hatch candy as well, so if you desperately need to power up or evolve any of those water-types, this is a good chance.

If the water-type you need isn't available from any eggs or you can't find them in the wild, fret not. Water-types that are set as your buddy will also earn double buddy candy.

The biggest change coming with this event is the release of Crabhammer, a special charge move for Kingler and Crawdaunt. This is mainly important for hardcore raiders, as this move makes Kingler the new best water-type DPS attacker. Paired with Bubble, Crabhammer has made Kingler out-DPS Kyogre, which has been the best water-type DPS Pokémon since its release. Once the event starts, players will be able to TM this move on to their crab (and lobster) Pokémon freely.



Water Festival Field Research


Water Festival: Earn a candy walking with your buddy Barboach encounter
Water Festival: Catch 10 water-type Pokémon 1,000 Stardust
Water Festival: Catch 5 water-type Pokémon Krabby encounter
Water Festival: Evolve 3 Carvanha or Barboach Clamperl encounter
Water Festival: Hatch 5 eggs Blastoise encounter
Water Festival: Win 2 raids Azumarill encounter
Water Festival: Defeat a Team GO Rocket Grunt Carvanha encounter
Water Festival: Take 5 Snapshots of water-type Pokémon Seel encounter


Note that you might have similar Research Tasks in your list, but they have to have the Water Festival tag on them in order to get these rewards.

Water-types will also be taking over raids and on Aug. 28, Uxie, Mesprit, and Azelf will be featured in the Legendary Raid Hour from 6-7 p.m. for their respective regions.

This Pokémon Go event lasts until Aug. 30 at 4 p.m. ET.